Several Asiad medalists benefit from MVPSF support
The recently concluded 18th Asian Games in Jakarta and Palembang, Indonesia introduced new heroes to Filipino sports fans while also reacquainting them with athletes they've followed in the past.
The nation cheerer, prayed, and supported Filipino athletes in their matches, fights, and performances. Their campaigns might have lasted for a fews days, the others barely minutes but the effort that they poured in during training in preparation for the Asian Games was lengthy.
It's also important to know that the success of gold medalists Hidilyn Diaz in weightlifting, Yuka Saso, Bianca Pagdanganan, and Lois Kaye Go golf, and Margielyn Didal in skateboarding happened because of their hard work, aided by support from the private sector.
Silver medalist Rogen Ladon and bronze medalists Carlo Paalam and Eumir Marcial along with other bronze winners in BMX cyclist Daniel Caluag, the taekwondo poomsae men's team (Dustin Mella, Jeordan Dominquez and Rodolfo Reyes Jr.), the taekwondo poomsae women's team (Janna Oliva, Faye Crisostomo and Rinna Babanto), as well as taekwondo bet Pauline Louise Lopez all enjoyed support from the MVP Sports Foundation (MVPSF), a privately funded sports foundation of the Manuel V. Pangilinan (MVP) Group of Companies. MVPSF-supported athletes delivered more than half (12 of 21) of the medals that the country won in the recently-concluded Asiad.
Since its creation in 2011, MVPSF has been providing financial support amounting to over P1 billion in sports development programs of different National Sports Associations (NSAs).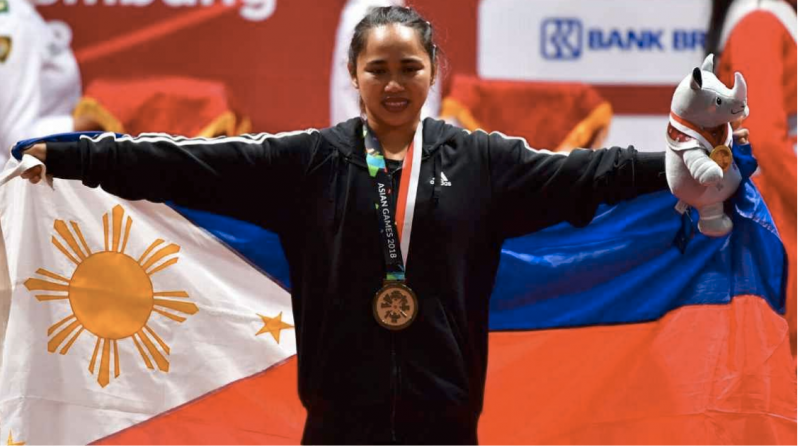 Hidilyn Diaz of the Philippines celebrates at the podium during the victory ceremony for the women's 53kg weightlifting event during the 2018 Asian Games in Jakarta on August 21, 2018. 
Photo by MONEY SHARMA / AFP
The foundation's main goal has been to create long-lasting progress for its chosen sports through programs that help elevate the athletes' competitiveness and increase their chances to win in international competitions like the Asiad and it proved to be successful as the Philippines brought home four golds, compared to only one in the 2014 Incheon Asian Games.
"Yes, we've been quietly supporting our athletes since 2011. Given their performance in the 2018 Asiad, it seems that the sports programs that we are supporting are on the right track in creating champions and world-class athletes. As a private entity on a mission driven by pure love and passion and with our battlecry 'puso,' MVPSF seeks to further provide support to our athletes, especially as the country prepares for the 2020 Tokyo Olympics," said MVPSF president Al Panlilio.
Panlilio, who also heads Samahang Basketbol ng Pilipinas (SBP) as president, worked tirelessly behind the scenes to get the NBA to allow Jordan Clarkson play for Gilas Pilipinas. For a team assembled only two weeks before the Asiad, the Gilas team finished in 5th place, an improvement from its 7th ranking in the 2014 Asiad Games.
"Our wish of having Clarkson play for the Philippine team has become a reality in the Asian Games. SBP's desire is to have him play in future competitions during the NBA break," Panlilio was quoted in a statement. "[Our] goal is to come up with the best possible Philippine team, have a chance to win every tournament and, ultimately, make over 100 million Filipinos happy."
Aside from its well-known support for basketball, MVPSF is also currently focused on other sports, namely, badminton, boxing, cycling, football, golf, taekwondo, rugby, and weightlifting. The Foundation also extended support to other athletes in the field of gymnastics, figure skating, and skateboarding.
"We are definitely proud of our Asiad medalists, and their wins shall further power up our desire to support Philippine sports as part of our efforts towards nation-building. We shall continue to inspire Filipinos through sports," said MVPSF chair Manny V. Pangilinan.
Philippine Olympic Committee secretary general Pato Gregorio implored more companies to show their support to athletes as it is proven that these partnerships produce results.
"We only needed one meeting with Margielyn to know that she was serious about getting a gold medal in the Asian Games," Gregorio said. "Her gold medal is a product of her talent and multiple entities helping out behind the scenes. If we help our athletes, they will bring home more medals."
READ MORE: http://tv5.espn.com/story/_/id/24601725/several-asiad-medalists-benefit-...